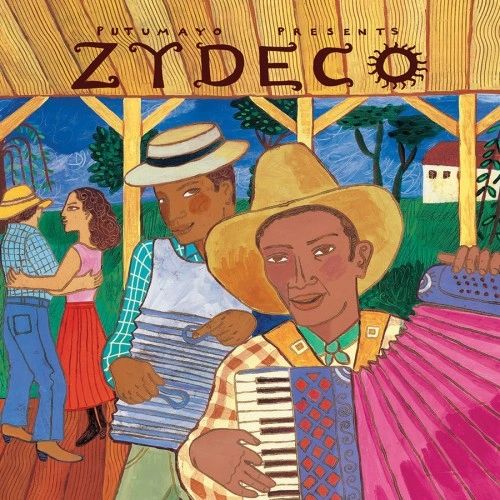 Putumayo's Zydeco CD
Zydeco is a satisfying survey of the fascinating fusion of French and African culture in Louisiana and features most of the genre's biggest stars including Clifton Chenier, Boozoo Chavis, Buckwheat Zydeco, Beau Jocque, Keith Frank, Geno Delafose, Chris Ardoin, Nathan and the Zydeco Cha Chas, Queen Ida, and Zydeco Force as well as regional favorites Rosie Ledet, The Creole Zydeco Farmers and Jude Taylor.

Track List:
1. The Creole Zydeco Farmers - "Creole Farmers Stomp"
2. Keith Frank & The Soileau Zydeco Band - "Ço Fa"
3. Rosie Ledet - "You're No Good For Me"
4. Beau Jocque & The Zydeco Hi-Rollers - "What You Gonna Do?"
5. Nathan & The Zydeco Cha Chas - "I'm In Love"
6. Boozoo Chavis & The Majic Sounds - "Lula Lula Don't You Go To Bingo"
7. Queen Ida & Her Zydeco Band - "My Girl Josephine"
8. Clifton Chenier & The Red Hot Louisiana Band - "Calinda"
9. Buckwheat Zydeco - "I'm On The Wonder"
10. Geno Delafose & French Rockin' Boogie - "Bye Bye Mon Nèg"
11. Chris Ardoin & Double Clutchin' - "Stay In Or Stay Out - Pass the Dutchie"

Featured Products