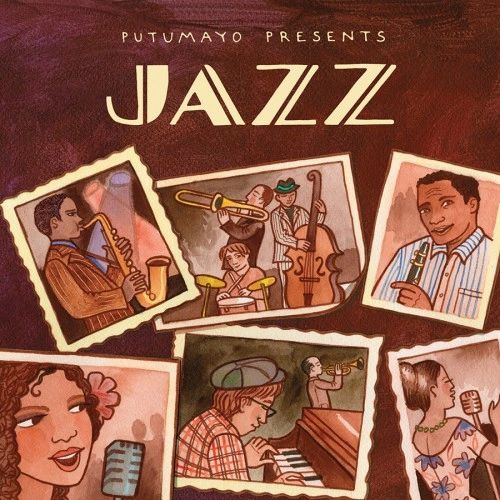 Putumayo's Jazz CD
Putumayo's Jazz features a veritable who's who of jazz legends performing beloved standards. The 1950s was a golden age for jazz and three-quarters of this collection was recorded during this era. Many of these recordings have been remixed and remastered, providing a level of sound quality not available until recent years. A wonderful introduction to the genre and a worthy addition to any aficionado's collection, Jazz demonstrates the enduring, universal appeal of this homegrown American musical style. The liner notes of the CD were written by noted jazz scholar and WWOZ New Orleans radio host Joel Dinerstein, whose in-depth commentary is accompanied by rare archival photos.

Track List:
1. Nina Simone - "My Baby Just Cares For Me"
2. Louis Armstrong & Oscar Peterson - "I Was Doing All Right"

3. Maxine Sullivan - "'Tain't No Use"
4. Hampton Hawes - "The Sermon"
5. Chet Baker - "There Will Never Be Another You"
6. Zoot Sims - "Someone To Watch Over Me"
7. Blossom Dearie - "They Say It's Spring"
8. Billie Holiday - "Lover Come Back To Me"
9. Mose Allison - "Don't Get Around Much Anymore"
10. Anita O'Day - "It Don't Mean a Thing (If It Ain't Got That Swing)"

11. Cannonball Adderley with Bill Evans - "Waltz for Debby"
Featured Products